Dear Friends,
Here in Menlo Park, CA we are 64 days into our lockdown. These are challenging times for everyone. At the bottom of this newsletter we've introduced a new feature: The Covid Corner, where I share a bit about how life is for my twins and me, and also ideas and resources from my team. Last month I referred to Winston Churchill. This month I feature an article that refers to Nelson Mandela and the idea of "strengthening in place." Please feel free to ping me personally to share your ideas.
Below is a list of Frederickson's current People and HR searches. Also, you'll see some of our recently closed People and HR searches, comments on the temperature of the market, a new way of connecting, and what's up now at Frederickson Partners. As I celebrate 25 years in business, although we can't host any amazing parties, my team is rocking during this time of social distancing, starting and completing searches 100% remotely during the "shelter-in-place" (or SIP). As we take on new HR searches and complete current ones, we are helping our clients compete for and win the superstar candidates.
The market for People/HR jobs is still good (many of these star candidates have multiple offers). Companies are searching for CPOs, CHROs, Vice Presidents (VPs) of Talent Acquisition or Total Rewards, or HR Business Partners, for three reasons: increased turnover, new funding, and the need to upgrade in order to meet the demands of today's changing HR role. Yes, some organizations such as earlier stage tech startups have done layoffs, but the amount of unemployed People/HR executive candidates is lower than anticipated. What's also surprised me is how many employed Heads of People and HR want to make a job change during SIP. In some cases, HR leaders are drinking from a COVID-19 firehose of communications, budgets, compliance, and RIFs. They may be unhappy with their current leadership and the direction of the company. We hear: "I'm working 16-hour days, my budget's cut, I'm unhappy with our leadership and I'm not having fun." But how can you ensure that the grass will be greener in a new role, when you can't meet the hiring manager and team in person? We have the secrets. Reach out if you'd like to discuss.
Take care,
Valerie
650.614.0220
valerie@fredricksonpartners.com


THE ROLE: VP Total Rewards Global HR Operations.
LOCATION: Scottsdale, AZ or multiple locations in Texas


CONFIDENTIAL
THE ROLE: SVP of Human Resources
LOCATION: Philadelphia, PA
Recently closed!
Relativity Space is the first autonomous factory and launch service for rockets. We recently conducted the VP of People search for visionary CEO and co-founder Tim Ellis, placing Karin Kuo. Karin has a Bachelor of Science degree in Economics from Wharton and a Master of Business Administration from the Fuqua School at Duke University. She spent five years at Deloitte, and then led strategy at tech companies before moving into People Operations. Relativity Space is funded by BOND, Playground, Mark Cuban, Jared Leto and Michael Ovitz.
Chief Talent Officer
Food for the Hungry, Los Angeles CA
Chief Human Resources Officer
Harvard University, Boston MA
VP of People.
Kickstarter, New York, NY
Head of People Partners.
Twitch, San Francisco, CA
VP of Talent Acquisition.
MongoDB, New York, NY
VP of Total Rewards.
Novant Health, Winston Salem, NC
Open to Consulting?
Are you a high-level, experienced human resources executive who is looking to make a transition into consulting and contract work? We're in the process of expanding our consulting bench for all functions of HR, with a focus on Head of People professionals. Contact us here, if you're interested in learning more.
CHRO and CPO Zoom Cocktail Hours with Valerie and Friends
At the request of an important client we will start hosting some Zoom Happy Hours with Valerie. Limited to six sitting CHROs and CPOs, we'll get together on a Thursday or Friday about 5:00 pm PDT, cocktail glasses in hand, to share what's going well and brainstorm challenges. Blow off steam, make some new friends, and learn a new cocktail recipe. The first CHRO and CPO Zoom Happy Hour with Valerie will feature my favorite drink, the Manhattan. If you'd like to join us, please email events@fredericksonpartners.com
HR Job Search Live Zoom with Valerie
Thursday May 21at 12:00 pm PDT, 3:00 pm EDT. If you are an out of work HR executive, please dial in Thursday at noon PST to hear about People and HR job search best practices, what's going on in the market, job leads, and how best to present yourself. events@fredericksonpartners.com

64 days into SIP, my 10-year-old twins are going crazy. They hate "Distance Learning" and have no appreciation that our tech savvy school was ready for SIP immediately, so we did not miss a single day of teaching. Their dining room "Homeschool" bleeds over into my work in the corner of the living room. Often, I'm unable to finish my work until they're asleep. Like many of you I've heard from, I love being at home 24/7 but miss the productivity of the office and being with adults who respect boundaries.
I know that in this part of the country, we have it better than 99% of the world. For example, some recent immigrants who live in this area have had their incomes stopped 100% because all their hourly labor has been cancelled. One action I've been taking is arranging for generous neighbors to meet specific families in the parking lots at Costco and Trader Joe's and give them bags of purchased food. One mom told me that they only had $2 of change and a gallon of milk costs $5.
To close, this is my own favorite article of the week with inspirations from Nelson Mandela. Here's also my favorite rant and meme. Please stay in touch. I'd love to hear from you.
COVID rant: Two kids in fourth grade means approximately eight teachers, three administrators and six parent volunteers contacting me via email, Shutterfly, ParentSquare, Altitude Learning, SeeSaw, DreamBox Learning, Epic! Books for Kids, Brown Paper, TreeRing and others to make sure my kids are receiving their daily assignments, are scheduled for Zoom and other online learning sessions each day, and that math, reading, writing, social studies, science, and Spanish, are all complete. I'm supposed to be customizing and uploading their yearbooks, making sure that they've learned their new songs, practiced the out of tune rented violin with the bow that broke, and completed assignments like "Make a video for the talent show and upload to this website by Friday." (Most of these learning websites aren't user friendly, and I don't have a password or remember the login I used back when the twins were in kindergarten.)
COVID meme:
Many of our team and colleagues have related to this one (you may too).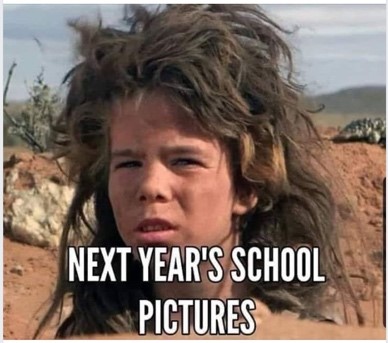 Frederickson Partners recruits high impact human resources leaders for innovative companies. Frederickson matches startups, tech unicorns, and the Fortune 500 with world-class full-time and project-based talent. The country's leading People executive search firm, Frederickson Partners is headquartered in Silicon Valley with offices nationwide. Clients include Alphabet, Facebook, Gartner, Gilead, Intel, Palantir, Pinterest, ServiceNow, Roche, Twitter, Uber and Workday.
Visit: fredericksonpartners.com