Quarterly Update

June 2018
The Chan Zuckerberg Initiative Retains Frederickson Partners for VP of People Search
The Chan Zuckerberg Initiative, founded by Dr. Priscilla Chan and Mark Zuckerberg in 2015, has selected Frederickson Partners to recruit their first VP of People, who will be tasked with building a comprehensive People strategy and global HR organization that will embody their mission: A Future for Everyone. CZI looks to its world-class, growing team of over 300 to be the catalyst for fresh, bold ideas that will make a lasting impact on the world. With a recent $3B investment in disease research and partnership with The Gates Foundation to accelerate breakthroughs in education, CZI is well on their way towards accomplishing these goals. The selected VP of People, based in Palo Alto, CA, will have the opportunity to build a best-in-class People strategy and global HR organization around the most progressive philanthropists of our generation.
Know someone that would be a good fit?
Email recruiting@fredericksonpartners.com.
Frederickson Partners completes nationwide Vice President of Talent Acquisition search for Invision
Barb Bidan selected to be VP of Talent Acquisition at leading Digital Design Platform
Frederickson Partners is pleased to announce Barb Bidan as the new Vice President of Talent Acquisition at Invision, a Digital Product Design platform used to make the world's best customer experiences. Barb is known for her extensive global HR experience at Indeed.com, Yahoo!, and Blackberry. As VP of Talent Acquisition, Barb will lead InVision's creative approach to shaping, growing, and defining the company's comprehensive Talent Acquisition strategy. Read more about Barb's journey here.
Coming off a recent 100M Series E funding round and the release of Studio, the world's most powerful screen design tool, InVision has both the capital and vision to improve the way it's 3 million designers work.
Data Analytics Show: Frederickson Talent Brand is Better Than The Big Five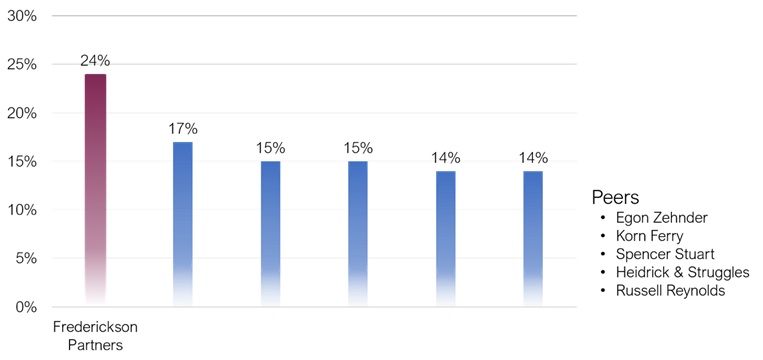 Frederickson Partners has a better Talent Brand than any of the Big 5 Search Firms (Egon Zehnder, Korn Ferry, Spencer Stuart, Heidrick & Struggles, and Russell Reynolds) according to Linkedin. Our trusted reputation within the HR community is what allows us to cultivate meaningful, lasting relationships with the industry's top HR executives, get them in play for our clients even when they are not "looking," and present them for opportunities that will allow them to continue to flourish and find meaning in their careers.
Featured Searches
IoT Startup
Redwood City, CA
Social Media Startup
Brooklyn, NY
Blockchain Startup
Brooklyn, NY
Cybersecurity Startup
Palo Alto, CA
Philanthropy Organization
Palo Alto, CA
Education Organization
Oakland, CA
Big Data Startup
San Francisco, CA
Head of
Talent Acquisition
Transportation Startup
San Francisco, CA
Big Data Startup
Santa Clara, CA
Fintech Company
Santa Clara, CA
A Rose By Any Other Name
Awesome and even more awesome titles CEOs use for their Chief Human Resources Officer
Head of People
Chief People Officer
SVP of Human Resources
Head of Employee Success
Head of Team Member Services
Vice President of Human Capital
…and the newest one, recently quoted by three different CEOs:
Spirit Animal "Like Wendy in Billions"
Frederickson Partners recruits innovative HR leaders for transformational, high growth companies. Startups, industry-leaders, and the Fortune 100 have trusted Frederickson Partners to build and upgrade their human resources leadership teams for over 20 years. Ever since Silicon Valley took its name, Frederickson has been elevating HR functions and creating a new generation of HR leaders who are tech-savvy, data-driven, truly understand digital, and believe that the customer experience and the employee experience are critical. As the country's leading HR and People executive search firm, Frederickson has completed hundreds of successful HR searches and maintains meaningful, long-term relationships with 10,000+ rising people operations and established HR executives nationwide. Frederickson's deep network among HR and People executives and its reputation as the HR community's trusted career advisor enables the company to present top HR executive candidates in an average of only three weeks.